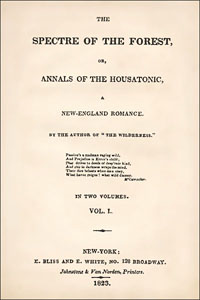 Excerpts From Vol. 2 of James McHenry's 1823 Novel

The Spectre of the Forest



[ 41 ]



CHAPTER IV.
True: love and friendship may unite,
To give the youthful mind delight;
But should they chance to be at strife,
Ah! then how terrible is life.
Thaunus the Druid.
Shelbourne no more visited Mr. Devenart's, a circumstance of which Parnell, who was now in a state of convalescence, soon began to take notice. He was much puzzled to account for it, as he knew of nothing having taken place to give him displeasure. He esteem Shelbourne, and felt somewhat uneasy on count of his absence. The attention of his friend during his recent sickness, also called for an acknowledgement. He, therefore, determined to visit Milford, and discover whether or not any estrangement had taken place, and if so, what was its cause.

"Mr. Parnell," said the ferryman, "I believe that you, and your friend Shelbourne, d'ye see, have agreed to become sick by turns. Now, when you are getting well, he is taken it into his head to get ill, you perceive; but what ails him, whether it be a fever, or a pure fit of madness, no body can tell -- that's the query,"



---



42 THE SPECTRE OF

"I have not heard a word of it before," said George. "Is he confined with his complaint?"

"Confined!" answered the ferryman. "Ay, that he is, absolutely locked up, d'ye see. But it is said to be neither by the doctor's orders, for no doctor dares approach him, nor yet by the effect of sickness, which, d'ye see, I think, would make him some trifle tamer than they talk of. For, you perceive, he'll scarcely either eat or drink, but keeps his chamber, growling like a chained bull-dog. They have strange stories going, d'ye see, about his having lost his wits in love -- that's the query."

"I wonder I should have head nothing of it," said Parnell.

"No wonder at all about that, master," returned the man of the water, "for, d'ye see, it is only this morning I heard it myself; and I have always had a notion that the news of Milford must pass over the water, d'ye see, before it can reach Stratford."

"Do you know any particulars of the case?" inquired Parnell. "Has the lady's name been mentioned to whom he is said to be attached?"

"The lady's name!" answered the other; "ay, ay, every body knows it. But, d'ye see -- excuse me sir, it is said that you too are smitten with her. But there was this difference between you, your sickness was proper, down-right, honest sickness, whereas his is stark madness, you perceive."

"No more; no more on this subject, master ferryman," said Parnell.



---



THE FOREST 43

"No more an' you wish it, young man," replied the Waterman; "only I must say, d'ye see, that these your handsome women are great plagues on the earth; the witches themselves are hardly more mischievous -- that's the query."

"And there have been as irrational queries gravely discussed," thought George. But having now reached the bank of the river, he left the ferryman without a reply, and proceeded to Shelbourne's residence.

That gentleman's house, although built entirely of framework, was one of the most spacious and elegant then in that part of the country. It stood, as the better description of dwelling-houses generally then did, on an elevated portion of ground, enjoying the advantage of not only a dry and comfortable site, but of an extensive and varied prospect. The lowest of its two high and airy stories, had attached to its southern and western fronts a handsome an roomy piazza, above which, on a level with the floor of the upper story, a spacious balcony environed the same fronts. The principal entrance was by a flight of steps leading into the piazza on the southern front. The door was large and high, surmounted with an arched window, and having its architraves and entablatures ornamented with Corinthian architecture. A wide hall, extending across the house, gave admittance to various large and showy rooms, indicating the wealth, and the luxury, not the taste, of the owner. A broad and massy flight of stairs arose from the centre of this hall to the upper parts of the house,



---



44 THE SPECTRE OF

which contained' several suits of commodious apartments corresponding with those below.

It was in one of these apartments, situated on the south-western angle of the house, that young Shelbourne had secluded himself, in a state mind bordering on distraction, after parting with Miss Devenart, as mentioned in the last chapter. He had armed himself, so as greatly to alarm his parents, and had strictly prohibited any strangers to be admitted into his presence. His parents were not ignorant of his passion for Miss Devenart, and had no doubt but some repulse or mortification which he had received from that lady, was the cause of his present frenzy; and, conceiving that a few days would probably diminish its violence, they concluded, that it would be best to let him take his own course, without offering him any opposition, either by advice, or menaces.

The tempest of his mind had, indeed, abated in its fury, before George Parnell's appearance, but the clouds were far from being removed. Gloomy, dark, and portentous was the seeming calm that had supervened; but, dark as it was, he was enabled to see his way more clearly; at least, he could proceed with less rashness, than during the raging of the storm.

From the window of his apartment, he perceived George approaching, and his first impulse was to meet him face to face, and demand from him a relinquishment of Miss Devenart, or the murderous satisfaction of a duel. But the remembrance of his former tenderness for his earliest and most endeared friend rushed upon his



---



THE FOREST 45

soul, and prevented the adoption of so harsh and bloody a resolution. He threw himself upon his chair to deliberate how he should act. It was then that a conflict between love and friendship, esteem and jealousy, took place in his mind, which had nearly torn it to pieces. He burned to put his rival out of the way of his happiness, but that rival had long been almost as dear to him as his own welfare. He loved him, for he had long participated in his joys and sorrows; but he hated him, for he had won the affections of the mistress of his destiny -- those affections, to possess which, he would willingly part with every other source of happiness.

"Heavens!" he ejaculated, "into what a gulf of wretchedness am I plunged! George Parnell -- the virtuous, the generous, the faithful, the affectionate, as I have ever found him, I must now hate, for, alas! he is loved by her whose love is, to me, more precious than the breath of life! and by all that's holy, I will hate him! for, let her despise me if she choose, I will take care that none else shall enjoy her love with impunity. He who is so happy shall, at least, answer to me for being so! -- But, Oh! God, what right have I to say so? and George Parnell! alas! alas!" --

He here stopt abruptly; and, as if to conceal from the light of day the violent emotions marked on his countenance, he covered it with his hands, and throwing himself upon the bed, groaned deeply. He was in this situation, when he heard a tap at his chamber door. He started up,



---



46 THE SPECTRE OF

and found a servant with a message requesting from Mr. Parnell admission to his presence.

"Dathan, begone!" said he; "annoy me not. I admit no one."

"But -- Mr. Parnell, sir," observed Dathan --

"George Parnell!" returned Shelbourne, "No, no; I cannot see him -- but stop -- I will write to him my wishes."

While the unhappy young man is writing to the object of his jealousy, it may be stated how the latter was received by the elder Mr. Shelbourne, who was well aware of the share which he had in producing his son's malady.

Stephen Shelbourne, Esq. was at this time about sixty years of age; small, active, white-headed, wrinkled, and somewhat shrivelled in his appearance. His features were sharp and keen, his eyes brisk and penetrating, his nose thin, but prominent, and powerfully aquiline; his mouth rather cast to the one side, with an expression; especially when he smiled, strikingly sinister and selfish. He had at one time been a drummer in England, under General Fairfax; and afterwards a collector of excise under well, which situation he lost at the restoration as Charles the Second, and, in consequence, emigrated to America with the tide of Puritans and other malcontents who then left the shores of Britain. On the passage he gained the affections of a handsome and virtuous young woman, named Hannah Newtown, who possessed some property, and whom he married shortly after landing, and settled himself near Milford. Henry was



---



THE FOREST 47

the only fruit of this marriage, and it was often remarked, by the sagacious settlers in the vicinity, among whom old Shelbourne was far from being a favourite, that any good qualities which the young man possessed must have been derived from the virtues of his mother.

We have, on a former occasion, mentioned that Shelbourne was a justice of the peace, which circumstance had, by an unexpected accident, enabled him within the last eight or ten years to add greatly to his wealth. The celebrated Captain Kidd, whose piracies at this time excited great terror along the coast of New-England, and one or two of his men, imprudently exposing themselves on shore, were taken prisoners, and brought before him. The worthy magistrate affected to exercise his authority with the utmost rigour; but understanding that the pirates possessed vast treasures, secreted in some of the islands along the coast, he privately agreed, for a large sum, to send a trusty messenger on board of their ship, which then lay at Fairweather Island, near the entrance of the Housatonic, with orders from Kidd for a strong party of his men to come to his rescue. To give time for executing this enterprise, the magistrate, under some pretence, delayed the commitment of the prisoners, whom he kept confined in his own house. The consequence was the rescue of Kidd, and the establishment between him and Shelbourne of an intercourse, which tended greatly to enrich the latter, and to afford security, and impart audacity to the former.

With this copious source of his father's wealth,



---



48 THE SPECTRE OF

young Shelbourne himself had been for a considerable time acquainted. It had, at first, met with his disapprobation; but, the matter being always managed with great secrecy, he had never experienced any disgrace on account of it, and habit, and the advantages it afforded, together with the looseness of his own principles on religious and moral subjects, soon reconciled him to it, so that, on more than one occasion, he had even visited the pirate's ship in disguise, and joined in the obstreperous and impious carousals of Kidd.

"So, so, Mr. Parnell, good morning to you," said the magistrate, as he ushered George into a splendid parlour.

"I am sorry to hear that my friend Henry is indisposed," observed George, seating himself on a settee.

"Ay, ay, Mr. Parnell, indisposed with a vengeance, that he is," said the other. "But, prithee, master, take a glass of wine."

"Can I be permitted to see Henry?" asked Parnell.

"Heh! I doubt not -- but stay -- perhaps it may be -- you were always his favourite; and I suspect that you may know something of the cause of his malady. It is a ridiculous love fit, with a spice of jealousy in it, beyond the reach of the doctor's drugs, master George. But he'll at last, never fear him, get ashamed of it....



---



222 THE SPECTRE OF

... Shelbourne, protected by the victorious sailors soon made his way with his beauteous prize to the river; where he speedily placed her in a boat, into which a number of the sailors instantly leaped, and, in company with another boat, which accommodated the remainder of the victors, they speedily rowed out of the river, and proceeded on board the Hurricane, the formidable piratical ship of Captain Kidd.









---
[ 223 ]



CHAPTER XVI.
Think of the final fate of evil doers,
How Heaven's strict justice always overtakes them,
(For Heaven for ever holds the balance even ;)
Conlama! think, and shun the dangerous course
By which they headlong rush upon destruction.
Persist in virtue though fierce storms should threaten,
And doubt not of a rich reward at last.
Thaunus the Druid.
The preceding transactions had passed with astonishing rapidity; and during their continuance, it may well be imagined that the agitation of Esther's feelings was excessive. When Shelbourne seized her she fainted away; but had recovered about the time she was carried into the boat, although her ideas continued so confused during the passage down the river, that she could scarcely be made to comprehend what had taken place. This confusion of ideas was increased by her eyes happening, just as she returned to her senses, to alight upon one whom she justly considered the chief of her persecutors. This was her judge, Philemon Full-of-Faith, who had been seized during the skirmish, and carried off as a prisoner by Ephraim Bradley, who, we should, perhaps, have sooner informed the reader, had assumed the garb of a sailor, and enrolled



---



224 THE SPECTRE OF

himself among the assailants. Ephraim was induced to commit this trespass upon the precious person of the judge, from the very reasonable opinion, that by doing so he would remove from the vicinity a very dangerous individual, and, perhaps, terrify others from following his example.

When Esther discovered that this faithful steward was beside her, which his disguise and her confusion prevented her at first from doing, her feelings became greatly mollified; and she began gradually to recover her tranquillity and self command. Under the plea of indisposition, which, indeed, was real, she was permitted to retire to rest immediately on coming on board. She had been accosted and welcomed on board by the ferocious Kidd, whose very name had long been terrible to her imagination; and she shuddered at his touch, when, on the boat coming alongside of the ship, he caught her hand to help her upon deck.

"She's a damn'd sweet creature that," said he, whispering in Shelbourne's car, as the latter followed her into the ship; "I would not for the lives of half my crew that you had not brought her off safe."

"I knew, Captain, that the issue of the enterprise would please you," replied Shelbourne, while he at the same time internally cursed his stars, for compelling him to bring one so lovely and beloved into the presence of a man who never laid upon himself the least restraint in the gratification of his passions. He was as much



---



THE FOREST 225

rejoiced as Esther herself, when she was permitted to retire from the indelicate gaze of a man of such a lewd and lawless character.

Kidd himself had not accompanied the party which achieved Esther's rescue; nay, he had, at first, appeared rather unwilling to countenance the measure; but Shelbourne, by importunity, at length prevailed on him to permit as many of the crew to follow him as he could persuade to do so. Out of about forty, thirty, on hearing a statement of the case, volunteered on the service, and now when it was so successfully accomplished, Shelbourne did not hesitate liberally to reward them.

Towards the evening of that day, a fair wind, for which Kidd had been several days impatiently waiting to impel them to the eastward, arose, and the ship was immediately got under way for a cruise.

"Damn it, Shelbourne," said the captain, "I am sorry I must part with the lady for a while, for she is a pretty creature, and I have a hawk's eye after her. But I have long meditated this cruise; and blast me! if I will let a woman detain me from it, now when the wind's abaft. We must leave her on Plumb Island. Thou'lt be her cock-robin till my return. Thou'lt have done thy best with her, ay, thou'lt have had thy money's worth of her by that time, and wilt have no objection to share the remaining spoil with a friend. But, hark ye, my hearty fellow, act fairly by her, nor plunder her, without her consent; though it will be damned hard for thee to forbear either.



---



226 THE SPECTRE OF

But, however thou actest, Shelbourne! mark ye, she must be on the Island, either dead or alive, at my return, in about a month, or, by all the devils in hell, I will make somebody pay for it."

"I will attend to your wishes," said Shelbourne, who knew that it would be the height of imprudeuce at this time to dispute them; and he was in reality much gratified with this opportunity of getting Esther out of the ship.

"But what are we do with this lubberly glutton, Full-of-Faith, that you have stowed into my ship?" said Kidd. "By the sons of thunder! but he appears a downright useless part of the cargo, an incumbrance upon the ship, man. "What am I do with him?"

"Faith," observed Shelbourne, "unless you choose to keep him prisoner, I know not. To let him go on shore would be wrong. I scarcely know what would be right."

"It would be right to hang him, I think," returned Kidd, "for the tender treatment he afforded to our sweet lamb below. What say you, Shelbourne?"

"That might be rather a rash and unjustifiable mode of getting rid of him," said Shelbourne.

"Shiver my mizen! but it shall be adopted, though," returned Kidd. "Jack Harkins! cast the loop of a rope round that old Pharisee's neck, and hoist him to the main-yard, for I hate the phiz of him."

"Ay, ay, sir," said Jack, and with great coolness he proceeded to obey. The terrified



---



THE FOREST 227

Full-of-Faith, perceiving what was intended, fell on his knees trembling and crying --

"Lord of mercy! Oh, in thy goodness, turn the hearts of these men. -- Oh! have pity on me, Captain Kidd. Oh! commit not murder on an innocent and unaccused member of the congregation, an untried and uncondemned communicant."

"Untried and uncondemned are you?" said Kidd. "By the great Neptune, thou shalt soon be both. Lieutenant Oakum, bear a hand; bring the lady upon deck -- we want a witness against the old glutton."

Shelbourne flew to assist the Lieutenant, and Esther was soon brought forward.

Kidd, seating himself upon the binnacle, cried aloud, with the voice of a stentor, "I here proclaim myself both judge and jury, to try and to condemn that son of a strumpet for his misdeeds. Amen, -- Jeremiah! Lady, you are the witness in the case. Question first, Know you, my pretty lamb, that lubber there with the unconscionable belly, and the rope round his neck?"

"Oh, Miss Devenart! who art an angel of light and of tender mercy," cried the distracted Full-of-Faith; "Oh! for the love of Heaven, save me from this cruel death." Esther remembered her own recent feelings in such a situation, and she commiserated the trembling object thus begging for life on his knees before her.

"Captain Kidd," said she, falling also on her knees before the inexorable judge, "if thou hast any regard for pity, for justice, for thy conscience



---



228 THE SPECTRE OF

in this world, and thy salvation in the next, do not, do not, I implore thee, commit this meditated murder. Oh! do not launch that poor shuddering wretch thus violently into eternity."

"Stand up, fair one, and speak to me," said Kidd. "Knowest thou that man? Canst thou tell me his name?"

"I know him," replied Esther; "he is called Philemon Full-of-Faith, and is a magistrate and judge in Stratford."

"Did he not lately adjudge thee to the gallows, lady?" asked Kidd.

"Alas! I must confess it," said she. "But oh, spare him, spare him nevertheless, that he may live to make his peace with his Maker."

"It is enough, my pretty one," cried the captain. "What, thou unwieldy mass of corruption, say, what wouldst thou give for thy life, animal!"

"Let my lord have pity upon me," cried the distracted Full-of-Faith, "for thou seemest to me like one of the sons of God, and I will give thee houses and lands, gold and silver, yea, all that I have will I give for my life. And I will be thy bond-servant, and thy slave. Oh! I will work for thee, I will pray for thee; every thing I have will I give thee; with my whole heart and soul will I serve thee, if thou dost only spare me, spare me the breath of life."

"Hark ye, cuckold!" cried Kidd, "I am the devil's deputy on the high seas. Pray, wilt thou sell thy soul to my master, to purchase thy life?"

"My lord! whatever thou willest, I will do;



---



THE FOREST 229

only spare me, spare me the small boon of the breath that fills my nostrils."

"Avast," cried Kidd, "no more whimpering and chattering of thy teeth like castanets. Thy doom is fixed, thy lands and tenements, thy gold and silver, I value not in comparison with the pleasure of sending filthiness like thee to the devil. Hoist away! lads, to the main-yard with him, and let him merrily dance there upon nothing on his trip to hell!"

"Ay, ay, sir!" cried several of the sailors, and in a moment the shrieks of the distracted Full-of-Faith were stifled, and he swung in the air. In a few moments more, however, the noose upon the rope round his neck, which had been but carelessly fixed, gave way, in consequence of his great weight, and as the ship then leaned to one side beneath the pressure of a brisk breeze, throwing the end of the yard-arm, to which he had been raised, considerably over the sea, he fell into it with a heavy plunge, the sailors raising aloud laugh, and Kidd crying out -- "There; he goes to the sharks, and Davy Jones will conduct him to hell."

This act of violence overpowered Esther's feelings. She had given a scream of horror, and fainted upon the deck, the moment Full-of-Faith had been raised from it; and Shelbourne had reconveyed her to her couch. Plumb Island came in view that evening, and she had scarcely recovered from the first impression of the shock she had sustained, when she was placed in a boat with Shelbourne and six sailors, and carried on



---



230 THE SPECTRE OF

shore. Two of the sailors returned to the ship with the boat, leaving Shelbourne, and the other four with her, on the Island. Ephraim Bradley, much to his own dissatisfaction, and her grief, was compelled to remain on board; and the four seamen had instructions to watch Shelbourne's motions, lest he should attempt to escape with Esther from the place. Shelbourne was not ignorant that he was thus no better than a prisoner in the custody of these men. But there was no help for it. Kidd's will was absolute, and he had to submit with as much apparent good will as he could assume. They had obtained a plentiful supply of necessaries from the ship, so that he had the means of making Esther comfortable, which he resolved should be his first care, and trust to contingencies for both his own and her deliverance from their present disagreeable predicament.

In a long narrow valley, near the southern shore of this then uninhabited Island, Kidd had constructed a number of subterraneous cells, for the concealment of a portion of the booty which he plundered upon the high seas. Here, also, he had erected a large block-house, to which, when he wished to enjoy revelry on shore, he was accustomed to retire, and, sometimes for a week together, indulge in every species of riot and debauchery.

This strong-hold was situated so far up the valley as to be undiscoverable from the coast. It was protected in the rear by an assemblage of impassible rocks, and in front was approachable



---



THE FOREST 231

only by a defile very easily defended. It contained four or five apartments, and when occupied by Kidd was always well garrisoned; but at other times totally deserted, and its furniture removed to one of the adjoining subterraneous cells. It may be also observed, that to this place Kidd frequently carried the unhappy prisoners whom he captured on the seas, in order that he might heighten his revelries by the humour of putting them to a mock trial, and then inflicting upon them real tortures and death.

This slaughter-house, as his seamen usually called it, was now destined to be the residence of Esther Devenart. For the first two or three weeks, Shelbourne conducted himself towards her with much delicacy and propriety. He, indeed, would sometimes address her in rather an impassioned strain, which, however, she always so resolutely repelled, that he had not yet acquired hardihood enough to persist. His passion at length began to grow uncontrollably violent, and, as the time approached, when he dreaded the arrival of Kidd to snatch from his possession the charms for which he so eagerly panted, it arose almost to frenzy. He had not yet communicated to her the pirate's intention towards her. But he now resolved to show her the whole peril of her situation, and to lay before her the alternative of either submitting to his embraces, or being forced to those of Kidd.

"Neither of these events shall ever take place," said she, looking at him with horror at his proposal marked in her countenance. "No, my



---



232 THE SPECTRE OF

heart-strings shall crack, before either of you shall perpetrate such villainy. Ah! barbarous Shelbourne! is this your disinterested affection, for which I felt for you as much gratitude as it is possible. for any heart to feel! Oh! why did you rescue me from death to plunge me into a Misery infinitely deeper and more appalling?"

"Esther Devenart," said he, "thy charms have been long the delight, the torment, the ruin of my youth; and, by Heavens, the sweet reward for which I have endured so much, must sometime be mine. Disinterested in my love, didst thou say! Yes, I protest that I was sincerely so, when thou wert in the hands of those barbarians of Stratford. The worst of torment, perpetual banishment from thee, I could then have submitted to for thy safety. But thou wert not then, as now, within my power. Ah! it is more than my passion can endure, to have thee under the same roof with me, and not attempt to win, and if need be, to force the enjoyment of thy charms. Think of it, enchantress! By Heaven, my resisting such temptation for four long burning weeks, has been a miracle, and at this moment astonishes me!" He here paused for a space, as if uncertain how to act, while she stood shuddering at his vehemence. He then added, "Madam, my determination is fixed, but I shall give thee time to reflect," and he hurried out of the room.

He soon returned with a paper in his hand.

"Read that," he said, "and decide upon your own doom, and mine," so saying he again withdrew.



---



THE FOREST 233

She read the paper as follows:

"Dearest Esther,

"When in your presence, passion makes me speak too warmly to reason with you, and show you calmly how we are situated. Kidd's return is daily expected. You will then without ceremony be forced to his bed. I can bribe one of the sailors who watch us, with whose aid the others may be surprised and overcome. These men have a canoe in which they fish along the coast. In this canoe, with the blessing of Providence, we may reach Long-Island, and then fly to New-York, where I shall claim your hand, and we shall be happy. Oppose not this. Oh! say that you will be mine, and all my violence, which is occasioned by my fears of losing you, will subside. If you resist, think what will be our fate. You will be the ravished victim of Kidd, and my dagger shall pierce my own heart.

"H. Shelbourne."


The alternative thus placed before this unhappy young woman, was almost enough to drive her to distraction. She threw herself on her knees before her Maker, to implore his aid and direction in this trying crisis; and the soothing influence of her pious supplication, although it could not restore hope, restored that fortitude which had for a space forsaken her; and, being undisturbed, for the remainder of that night, by any visit from Shelbourne, she passed it, not tranquilly,



---



234 THE SPECTRE OF

it is true, but less distractedly than she could have expected.

The next morning he visited her. She was much indisposed, and begged him to leave her undisturbed for some hours, that she might, in peace, have an opportunity of recovering. He complied; and, in order to amuse the time, and divert his mind as much as possible, from its agitating contemplations, he wandered to a distant part of the island. Towards the latter part of the day, he perceived, from the top of a hill which he had ascended, a ship approaching the land. In a short time he knew it to be the Hurricane. He hastened to the Block-house in great consternation. On reaching the hill that formed the eastern rampart of the valley in which it was situated, he perceived a boat, with four or five men in her, rowing from the ship, towards the land, and he instantly knew that Kidd was coming on shore. Immediately, forming a desperate resolution, to conquer or die for his beloved, he hastened to arm himself with sword and pistol, and, desiring Will Haulyard, the seaman whom he had gained over to his interest, to be also armed, and at his call, he hastened into Esther's presence.

"We are undone, Miss Devenart! Unfortunate that we are, alas! why did we not fly in time? Now there is no flight for us. The ravenous hawk approaches, and will soon seize the trembling dove!"

"What new affliction is this you would announce, Henry Shelbourne?" said she. "Fear



---



THE FOREST 235

not to speak it plainly. I can hear it without surprise, for I expect nothing but calamity to thicken and gather round me, until my heart breaks. I shall then be relieved, and placed beyond the reach of you, and all my persecutors."

"Oh! rank me not among thy persecutors, sweet saint," said he. "By Heavens! I repent the rudeness of my late addresses to thee. But I will die in protecting thee, ere that ruffian pirate who now approaches, shall molest thee."

"Ruffian pirate! Whom callest thou by so gentle a name, young man?" cried the enraged Kidd, at that moment entering the apartment, with a drawn dagger.

"I scorn to give a false answer," returned Shelbourne. "It was thy savage self that I so designated, for I know what thou dost intend for that lady. But it shall be after my destruction alone that thou wilt succeed. Thank God, I am now armed."

"Hell and fiends!" cried Kidd. "Dost thou defy me? Then die!" and he rushed upon Shelbourne with his dagger. But the point of Shelbourne's sword was presented to his heart. He kept off, and shouted for assistance.

"Fly, Miss Devenart!" cried Shelbourne, "while I detain this savage here. Fly with Will Haulyard. He is friendly. He will protect thee, and if he reaches New-York with thee, I have ordered a thousand pounds for his reward."

Haulyard at this moment entered to carry Esther off, according to his engagement. His



---



236 THE SPECTRE OF

plan was, to conceal her in a place known only to him and Shelbourne, until it should be dark, when he should carry her to the canoe, and make the best of his way with her to Long Island, and thence to New-York. But he had scarcely entered the room, when two of his fellow guards, who were nearer hand than he expected, followed him, in consequence of the cries of Kidd.

"Hard fortune, I perceive, Haulyard," cried Shelbourne, "but fight it out, my brave fellow! Better die gloriously, than be hanged!"

While Shelbourne was thus encouraging his confederate, who had gallantly followed his directions, he himself was fully engaged with Kidd. His pistol had missed fire, but his sword was good, and Kidd and he had given each other several wounds, when three other men, one of whom was unarmed, entered.

"Good God!" cried the unarmed man -- "Esther Devenart here!"

"Alas! is George Parnell come here too to be murdered!" exclaimed Esther, whom the sound of George's voice -- for it was he -- had aroused from the stupefaction of terror that had seized her; and with the exclamation she sunk back in total insensibility upon her seat. As George was flying to support her, Shelbourne cried out --

"For Heaven's sake, George Parnell, seize a weapon, and rescue her from the pirate!"

George darted upon one of the men engaged with Haulyard, and in a moment disarmed him,



---



THE FOREST 237

calling out, at the same time, to one of those who had entered with him --

"Ephraim Bradley -- now or never!"

Ephraim soon perceived the right side, and was not slow in seconding it. Kidd was felled to the floor with a blow from his cutlass. Haulyard had given a mortal thrust to one of his opponents, about the time that Parnell had disarmed the other. The disarmed man fled, and the seaman, who had entered as the colleague of Bradley, in guarding Parnell, begged for quarter.

"To the boat!" cried Parnell, seizing Esther in his arms. "We shall easily overcome the two men left at the beach --"

"And thence escape to Long Island," cried Shelbourne -- but he fell that moment on the floor, having fainted from the loss of blood.

"Ben Bowsprit," said Parnell, to the sailor to whom they had given quarter, "your life is safe only on condition that you will carry that man to the boat. If you be faithful, I will reward you liberally."

"Ay, ay, sir," cried Bowsprit, technically, but cheerfully; and, raising Shelbourne on his shoulders, he proceeded, with the victors, towards the beach. George ordered Bradley, and Haulyard, who were unincumbered with any burden, to hasten forward, and secure the boat, by surprising the men who guarded it. They succeeded; and, binding the men with ropes, placed them in the boat, and ordered them to keep silence on pain of instant destruction.



---



238 THE SPECTRE OF

By the time that George Parnell reached the boat with his beloved Esther, the shades of night shrouded the sky; and the evening star, which had witnessed the plighting of their vows, shone auspiciously upon their constancy, and illumined their course on this eventful occasion, when, after a series of the most acute, and oftentimes hopeless sufferings, the grateful Esther reclined upon the breast of Parnell, and felt a sweet and an indubitable presentiment that the season of her trials had at length closed.

They reached Long Island in safety; and proceeded, attended by their two prisoners, to the nearest habitation. When they arrived there, however, they perceived that Shelbourne was in his last agonies. George and Esther, as they stood oppressed with grief by his bedside.

"My dearest lady, and my best beloved friend, I have done you both much injury; and yet, Heaven is my witness, that for the happiness of no human beings did I ever feel so much interested as for yours. Yes, Parnell, I wished you happy, but l could not bear that you should be so with that lady. Alas! sweet lady, will you grant my last boon, and say that you will forgive me for the numerous and terrible calamities which my unfortunate and ungovernable passion has occasioned you?"

"Willingly, from my heart, Mr. Shelbourne," said she, "do I forgive you. And, oh ! may the great God of Mercy forgive whatever sins erring nature may have caused you to commit against



---



THE FOREST 239

<! He, with difficulty, addressed > him; and when your soul takes its departure, may it be admitted, a sanctified and welcome guest, into the company of saints and angels!"

"Thank you, sweet maiden," said he; "I die happy, since I see you out of peril, and since I die in your presence, enjoying your sympathy, and your intercession with Heaven in my behalf. And you, George, for whatever may have been my offences against you, do you also forgive me?"

"I do most sincerely," said George, pressing his friend's hand to his breast, and the tender days of their early attachment rushing upon his recollection, his heart filled and he wept bitterly.

"George!" said his dying friend, "grieve not so -- I go to happiness in heaven -- may you be happy on earth. Ah!" said he with an energy unsuited to his present exhausted state, "you will be happy -- for she who stands before me is destined for you. But you are worthy of that happiness. Long, long may you enjoy it. Farewell -- Oh! Esther --"

But the effort he had made overcame his strength. He was unable to say more. Esther caught his cold hand ere sensation was yet extinct, and kissing it, bedewed it with her tears. By a transient smile of pleasure which played on his pale lips, and a momentary flash which sparkled in his languid eyes, he showed that he was conscious of her kindness, and that even in death it gave him pleasure. In a few minutes more, however, all the pleasures and pains of



---



240 THE SPECTRE OF

this world were to him as nothing, for he had hidden them an eternal adieu.

The fact that Kidd had fallen in with and captured the Princess Anne, the ship in which, it will be remembered, George Parnell had taken his passage for America, will, from the foregoing incidents, be apparent to the reader. Ephraim Bradley, who, it has been seen, was a reluctant seaman on board of the pirate ship, soon recognised his former friend and master, but his seafaring dress, and other circumstances, prevented a recognition on the part of George. Ephraim, however, took the earliest prudent opportunity of making himself known. He did not inform George of Miss Devenart's misfortunes, as he judiciously considered that he had at the time enough of his own to bear. On approaching Plumb Island, as soon as he understood that George was to be sent to the Block-house for the purpose of being there slaughtered, according to the caprice of the tyrant, who had caused the other prisoners, seven in number, to be hanged on board, he had the address to procure his own appointment as one of the guard. After leaving the boat, Kidd having hastened forward before them, Ephraim prevailed upon his fellow guardsmen to permit George to walk forward untied.

It may be here mentioned, with respect to Kidd's fate, that Providence had not destined it to be so honourable, as if he had died by the hands of Henry Shelbourne, or even by those of Ephraim Bradley. He recovered, although but slowly, from the wounds he had received in the combat



---



THE FOREST 241

we have described; but he was afterwards captured, and carried to England, where he was tried, condemned, and executed at Tyburn, a manner of death more suited to the wickedness and infamy of his life.

Parnell and his company waited the next morning only to see Shelbourne decently interred, when they proceeded on their way to Connecticut. They hired a fisherman's smack, from which they landed that very evening at Stratford; and, to the great joy of Mrs. Bradley, her young mistress, Esther, her young master, George, and her own dear husband, Ephraim, were once more under the old roof as unexpectedly and miraculously if as they had arisen from the dead.

George's first care was to wait upon the magistrates of the place,' Newbottle and Hornyheart, with the order from the English council to stop the prosecutions for witchcraft; and also with a full and general pardon from their Majesties to all who had been, or should in any manner be accused or condemned for the said crime. Within the express letter of this pardon, therefore, Esther Devenart's case was included, and the magistrates dared not dispute it. Squire Newbottle, who had, indeed, been forced to join in the proceedings against her, took care, the very next day, with his own hands, to cancel and destroy every record and memorial of the affair on which he could lay hold.

The order of council was, without delay, forwarded to the proper authorities; and a general gaol delivery, the most unexampled and triumphant



---



242 THE SPECTRE OF

for humanity that any country, perhaps, ever witnessed, took place in New-England. A new order of things commenced. Frenzy and terror gave place to confidence and good will; and, having thus recovered their senses, the New-Englanders have continued ever since, perhaps, the most cool, deliberate and rational people in the world.

Sir William Phipps, in obedience to the summons of the British council, sailed for Europe to answer for his conduct; but while commissioners were investigating it, he sickened and died, and thereby relieved them of further trouble.

That William Goffe, the regicide, was "The Spectre of the Forest," has already sufficiently appeared; that he was the father of Esther Devenart must have been suspected, and may now be explicitly declared. The sudden, and rather mysterious disappearance of Mr. Devenart's sister, the beautiful Calvanistic devotee, whose charms had overpowered the senses of the unfortunate Hanbury, will be recollected. The same charms, combined as they were, with so much religious fervour, had made an impression upon the heart of the outlawed Goffe, who had, for a few years before becoming acquainted with her, been a widower. His piety, his gallantry, and the peculiarly interesting nature of his situation, recommended him to Miss Devenart, and the attachment became mutual. She married him, and retiring to his lurking place in the forest, shared with him his exclusion from the world until her death, which, as we have seen, took place when our heroine, the only fruit of their marriage, was about fourteen years of age.



---



THE FOREST 243

The misfortunes of his daughter had overcome that energy of both mind and body for which Goffe had been so long remarkable. When he first heard of her apprehension, he endeavoured by Bradley's means to raise a party of Indian-hunters to rescue her from her guards, but the mania of the times had begun to affect the Indian-hunters themselves, and all Bradley's efforts proved abortive. Goffe sunk into melancholy, and several weeks previous to Esther's trial, was attacked with a low fever, which confined him to his couch, and threatened to terminate his existence. Neither her condemnation nor her rescue was communicated to him, for, as there were no comforting circumstances connected with the latter event, it was considered by Mr. Devenart, who was his constant attendant, as much calculated to shock his already worn-out frame as her death itself.

After his return, however, Parnell lost no time in despatching Ephraim Bradley to the valley with the joyful intelligence of what had taken place. The good clergyman, after first adoring his Maker for these unexpected mercies, proceeded gradually to unfold the whole to his afflicted friend.

"It is enough," said Goffe, "I shall see her before I die." And he did see her, for Parnell and she in a few days visited the cavern. He poured out his heart in thanks to God; he joined their hands, and pronouncing a parental benediction upon their heads, gave his assent to Parnell's request that Mr. Devenart should receive



---



244 THE SPECTRE OF

from them the holy vows of matrimony upon the spot.

For several weeks after this happy event, the old man seemed to recover, and, as he had nothing now to dread from the laws, he appeared frequently in the neighbourhood, and even once or twice visited Stratford, without disguise. But his former vigour was for ever gone; and, in one of his perambulations, having overheated himself, his fever returned, and terminated his 'earthly pilgrimage.

The wise Walter Wilkins made his peace with Mr. Devenart, on the latter being restored to his congregation. He continued a bachelor and a clerk until his fiftieth year, when, having overstrained his lungs by loud singing, on a sacramental occasion, he fell into consumption, and was soon mingled with his mother earth.

Hugh Bradley died in the year 1698, as he wished to die, fighting the Indians. His son Ephraim, and his wife, lived many years as the domestics of George Parnell. Their issue was one son, and four daughters. The former, who was their first born, was named Barnabas. He is the humble compiler of these Annals. The cares and perplexities of his unworthy life have been many; but they are of too little consequence to the world to be related.



THE END.






Notes: (forthcoming)