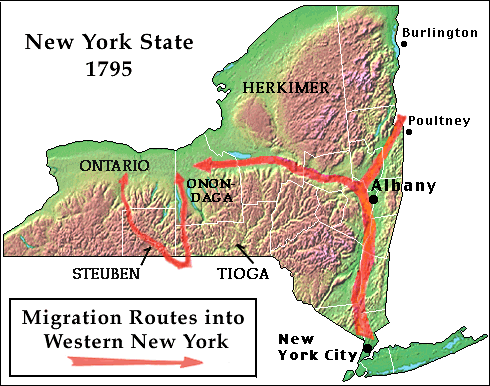 Western New York Counties in 1795



In the map depicted above the westernmost county is that of Ontario (created from Montgomery in 1789). Steuben county was created from the southeast corner of Ontario in 1795. The Ontario region was populated by a flow of emigrants from western and central New York, as well as a few who spilled over from northern Pennsylvania. As can be seen on the map, the influx of settlers from the southeastern portion of the state into Ontario was joined near Albany by yet another flow of migrants from Vermont and other parts of New England. This steady stream of Yankee pioneers eventually made up the majority of Ontario's population in the early years of the 19th century.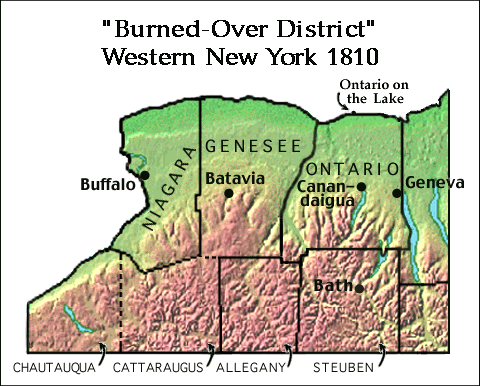 Far Western New York Counties in 1810



In the second map only the Ontario-Steuben region is shown. These are the lands west of Seneca Lake which were at about this time termed the "Genesee Country," after the major river in the area. Historians looking back at this part of New York also frequently call this same area New York's "Burned-Over District." There is no exact agreement on where the "Burned-Over District" begins, or what it's distinguishing features are, but the term is used here to designate the far western part of the state -- a newly-settled territory noted for its many religious revivals in the 1820s and 1830s.

As the population of Ontario county increased, portions of it were continually being split off to form new counties. Genesee County was formed from the western 2/3rd of Ontario in 1802 and Genesee itself was further sub-divided by the formation of Allegany in 1806 and Niagara in 1808. The southwestern extension of Genesee was divided into Cattaraugus and Chautauqua counties in 1808, but these areas did not become self-governing until a year or two after the 1810 Federal Census was taken. For this reason their interior boundaries are depicted with broken lines in the map above.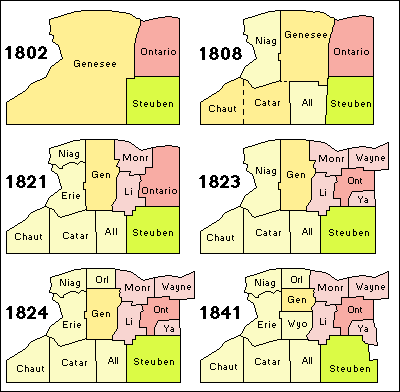 Far Western New York Counties 1802-1841



In the third map generalized depictions of the various counties indicate the evolution of county borders in the "Burned-Over District between 1802 and 1841, when the modern boundaries were finalized. The Evolution of the counties was as follows:





1802: Genesee formed from Ontario
1806: Allegany formed from Genesee
1808: Niagara formed from Genesee
1808:
Chautququa formed from Genesee
1808:
Cattaraugus formed from Genesee
1812: Cattaraugus & Chautququa self-governing
1821: Monroe formed from Genesee & Ontario
1821:
Livingston formed from Genesee & Ontario
1823: Wayne formed from Ontario & Seneca
1823:
Yates formed from Ontario
1824: Orleans formed from Genesee
1826: Yates added to from Steuben
1841: Wyoming formed from Genesee